Alicia Thru the
Looking Glass
Acrylic on Canvas
24" x 36"

August 2010
—
June 2011
Notes on Painting
Alicia Thru the Looking Glass
Tues Jun 1st 2010
Alicia emailed me her looking glass photo that she used to paint her self-portrait in art class. I liked the composition, the deep reds and black, and the shadow under her nose in the mirror image. However, the left hand was in the wrong position.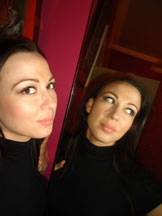 Thurs Jun 3rd
Emailed Alicia's looking glass photo to Chromatics for a slide conversion.
Wed Jun 9th
At Chromatics, picked up slide of Alicia's looking glass photo for a possible painting.
01
Tues Jul 13th
Started reading Robert Henri's
Art Spirit
. Read it before in the 60's. Traced Alicia in the looking glass slide using my Kodak slide projector.
02
Wed Aug 25th
Wet thoroughly a 22x22" newspaper sheet. Spread eggshell latex paint on it. Practiced painting Alicia's two faces in wetness.
Outlined faces on acetate sheet in painting for recovery if necessary. Laid down a thin wash of ochre, crimson, and white on Alicia's face. Found all of Tenniel's Alice illustrations at http://www.johntenniel.com
03
Thurs Aug 26th
Painted face, lips, and eyes and part of wall. Moved painting and paints back to corner of room so I could hold onto wall or table for support.
04
Fri Aug 27th
Blended white, ochre, crimson with fingers and flow medium, but results not up to the quality of realism in oils—in fact, boringly academic. Washed some black over cheek. Fractaled the eyes by marblizing. Would like to do skin colors the same way. How? It's a watercolor technique. Do not know whom to copy for this effect except my old paintings which are not facially detailed.
05
Sat Aug 28th
What would Cezanne do with Liquetex flow medium? Probably nothing. But it bled together colors in a way that reminded me of Cezanne with a wet brush not a dry brush. Subbed cobalt blue for black on cheek. At Richland library, browsed Cezanne, Monet, Renoir, and Degas portraits. Have always liked Degas best.
06
Sun Aug 29th
Continued allover flowing and detailing portrait. Put first wash on mirror image.
07
Mon Aug 30th
Did only a little touching up of Alicia face. Added another layer to Alicia in mirror. Painted mirror lips.
08
Tues Aug 31st
Continued with another layer of Alicia in mirror. Painted mirror eyes, first layer.
09
Wed Sep 1st
Another layer on mirror face. Added blue shadows. Detailed ear and eyes. Painted the black sweater. Mouse called back from Idaho. Explained that portraits allowed me to show off and please others at the same time. Should I have been a stand up comic? Studio light bulb blew out. Bought a 150 watt fluorescent bulb at Ace for $14.
10
Thurs Sep 2nd
Washed another layer on mirror face with crimson, ochre, white, and blue. Previously, on May 20th, Alicia gave me her self-portrait because the frame and canvas were damaged in the lower right corner.
Made a skewed rectangular paper outline of Alicia's face in her self-portrait. Plan to cut out this face and paste it to wall next to mirror in my portrait of her.
Fri Sep 3rd
More washing of Alicia's mirror image. Browsed Velazquez book at library downtown. Alicia's Spanish features are evident in her photo and my portrait of her. However, the face looks even more like a young Boobette who, although part Cherokee, teaches Español with a Castilian accent.
Sat Sep 4th
Concentrated on nose in mirror image. Painted and repainted right nostril. Mouse arrived around 3 pm. Mouse modeled her hand on mirror for the
Looking Glass
painting.
Sun Sep 5th
Worked on shadow around and below nose. Again, Mouse modeled her hand on mirror for
Looking Glass
painting.
Wed Sep 8th
Cut out hands in Photoshop for looking glass painting. Rode bikes to Cheekwood to see Chihuly glass works.
Thurs Sep 9th
Printed and outlined hand and mirror image for looking glass painting.
Thurs Nov 11th
Cut out Mouse's hand to go on Alicia's painting. Sketched it into painting with pencil.
11
Fri Nov 12th
1. Painted first tint of flesh colors on hand and image.
12
Mon Nov 15th
2. Painted more on hand and image.
13
Tues Nov 16th
Painted more on portrait hands.
14
Wed Nov 17th
3. Hands beginning to look good now.
Thurs Nov 18th
4. Minor touches on hands. The pastel hot pink on the joints corrects finger appearance.
15
Fri Nov 19th
Repainted a fingernail on hand. Poured out a white acrylic rectangle layer on glass so as to print Picasso's
Girl Before A Mirror
. Plan to place it in upper left corner of
Looking Glass
painting.
Sat Nov 27th
Printed a slightly skewed version of Picasso's
Girl Before a Mirror
. Painted another coat of digital gel on white surface. Painted a litle black around fingernails. Brushed another coat of digital gel on white surface.
Sun Nov 28th
Printed Picasso's
Girl Before a Mirror
onto white digital acrylic. Sprayed it with fixative in hallway. Let it dry by window. Looked at Tenniel's Alice drawings: http://www.johntenniel.com. Tried the Red Queen illustration in different places on painting in Photoshop.
Mon Nov 29th
Cut out the Picasso
Girl Before a Mirror
to fit in upper left corner. Poured another white acrylic rectangle so as to print a reflected version Alicia's self-portrait.
16
Tues Nov 30th
Spread another white coat on rectangle poured yesterday. Painted a little in upper part.
17
Wed Dec 1st 2010
Painted background various shades of red and black.
Fri Dec 3rd
Printed small reversed skewed image of Alicia's self-portrait. Sprayed it.
18
Sat Dec 4th
Marked spots on Alicia's self-portrait where I will cut out the canvas. Mixed quin red, ut red, and alizarin. Repainted wall in portrait. Decided on putting Red Queen, Tweedles, and White Chess Knight in portrait.
Mon Dec 6th
Played with Alicia's self-portrait in Photoshop. Added Chess Knight, Red Queen, and Tweedles.
19
Tues Dec 7th
Apartment was bug sprayed and inspected while I blackened lower right of painting. Glazed cobalt and payne gray over red wall. Poured clear acrylic for printing Red Queen pulling Alice. The Tweedles and Knight plan to paint. Poured out clear acrylic for Tweedles and Knight.
20
Wed Dec 8th
Scumbled flo red on red wall. Coated clear acrylic with digital ground for Red Queen printing. Painted Chess Knight with black lines. Painted Tweedles with red lines, but did not look good enough.
Thurs Dec 9th
Printed Red Queen and Alice. Then sprayed it. Peeled up Tweedles painted yesterday. Looked good enough.
Fri Dec 10th
Painted more red onto Tweedles. Talked to Mouse while cutting out Red Queen.
Wednesday Jun 1st 2011
Outlined on a glass plate the mirror area in Alicia painting. Fooled around in Photoshop with Alicia's mirror background. Fire does not work; destroys the classical muted reds. Last time I worked on this painting was Dec 10th before LA trip. Need to go back to Al Pounders' cubist interior look.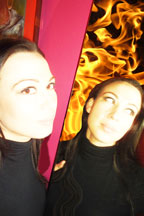 21
Thurs Jun 2nd
Scumbled the mirror area of Alicia painting. Played with the hair, partially scumbling and partially marblizing.
22
Fri Jun 3rd
More scumbling of mirror area. Rippled the turtle neck shirt with more mars black.
23
Sat Jun 4th
Worked more on hair in mirror. Needs more work on hair out of mirror. Scraped off some top of the marbling on external hair. Scumbled a grayish red onto mirror background.
24
Sun Jun 5th
Marbled hair more.
25
Mon Jun 6th
Worked over same areas as yesterday. Noticed that hinge on a furniture thingy was straight not curved. Repainted it.
26
Tues Jun 7th
Marbled top of hair. Overpainted dimmer mirror areas with dull red that matched photo.
Wed Jun 8th
Continued to marble hair. Brushed white glass glazings on mirror. Tried out some perspective chess squares in Photoshop.
27
Thurs Jun 9th
Worked less than hour on portrait. Added more hair below hand in mirror. Added more streaks of black to hair. Touched up eyebrow. Overpainted light ray in mirror with cobalt blue. Poured more black onto black wall stripe.
28
Fri Jun 10th
Tinted top of hair with sienna and cad wash. More hair streaks in mirror. Stripped Alicia's canvas from frame holding her self-portrait and cut out her face, which looks like Picasso painted it in his primitive African style ala his 1906 self-portrait.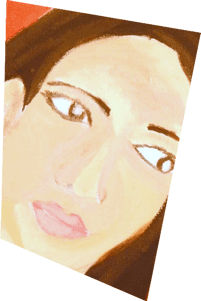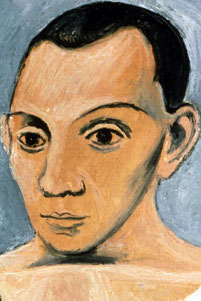 Decided to put the Jabberwock in the portrait on the shoulder. Tested different tapes for masking paint using the destroyed Alicia canvas. None prevented bleeding.
29
Sat Jun 11th
Glazed dark area in mirror. Marbled top of hair on glass over top left of portrait. Painted edge of Picasso
Girl Before a Mirror
. Poured a square of clear to print Jabberwock. Returned eight AA Studio 18x24 canvases back to Plaza, some of which Max and Lisa gave me for last birthday. Swapped them for three 24x36 canvases. This is the size I have now become accustomed to painting on. Perhaps because the ratio of 3:2 is closer to the golden mean than 4:3.
Eugene, a painter and salesman at Plaza, told me how to use masking tape to make a clean stripe:
First, gesso the seam where tape meets canvas, and let dry.
After drying, apply paint where wanted; it will not bleed under tape.
Remove tape after drying.
Back home, using Alicia's scrap canvas, clear coated the seam where tape meets canvas. After drying, impastoed a thick black layer between the two masking tape strips.
30
Sun Jun 12th
Masking tape technique worked! Left nice clean unbled edge. Taped off mirror frame and wall stripe. Coated seams with clear acrylic. When dry, coated black stripe and mirror frame with thick layer of Mars black.
31
Mon Jun 13th
Pulled tape up. Mirror looks good, but one edge of black stripe peeled raggedly. Patched ragged edge with clear. Put a tape on its edge. Clear coated the seam.
32
Made an extension of mirror frame with tape. Clear coated the seams. Printed purple skewed squares to test in upper mirror area.
33
Tues Jun 14th
Pulled up tapes. Looked good. Painted check squares in upper right. Placed the Picasso
Girl Before a Mirror
. Streaked more on top of hair. Started to extend hair in lower left.
34
Wed Jun 15th
Poured clear acrylic over Picasso print where hair top will go. Over painted squares in mirror with mix of crimson and payne gray. Laid stripe of tape on mirror where glare will go.
35
Thurs Jun 16th
Painted upper purple squares. Streaked hair strands at top of head and over bottom of Picasso print. Hilited with white the mirror frame in the middle where the glare is. Glare on mirror frame bled through tape. Blacked out the bleeding. Streaked more hair strands over Picasso print. Placed reverse image of Alicia's self-portrait in upper right. Placed Red Queen decal pulling Alice into mirror. Placed the Tweedles decal over mirror image heart. Printed and sprayed the Jabberwock.
36
Fri Jun 17th
Painted skewed upper checkered squares a lighter red purple. Then overpainted it a darker red. Put a glare in upper left on wall. Bounced more white beams off frame glare. Cut out the Jabberwock decal.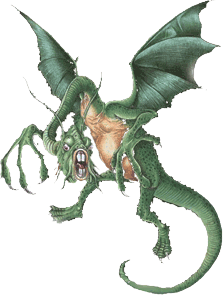 37
Sat Jun 18th
Painted face and claws on back of Jabberwock with yellow ochre to define it more. Painted upper corner of Alicia's self-portrait with orange to match printouts. Started 2 crimson-cobalt "glare" squares above and below Tweedles. Red Queen and Alice decal did not come out well. Will need to paint over it. Painted vest with burnt umber wash on back of Jabberwock. Painted more orange on upper corner of Alicia's self-portrait. Brushed clear acrylic onto this self-portrait and placed it in upper center.
Sun Jun 19th
Did not take a snapshot of painting today. Too dark outside. Painted over lines of Red Queen Pulling Alice with alizarin crimson. Glazed alizarin cobalt glare squares on turtle neck around Tweedles. Placed Jabberwock on shoulder of mirror image. Painted sides of canvas. Painted back of White Chess Knight an off-white ochre.
38
Mon Jun 20th
Placed the White Chess Knight on chair leg. Painted more alizarin cobalt glare squares. Painted around face of Alice beign dragged by Red Queen. Repainted squares in upper right a more orangier brown. Muted the Tweedles with coat of black and then cobalt.
Tues Jun 21st
Glazed a little more white on mirror frame. Made some orange rays reflecting slightly off mirror. Will rest this painting for a while to gain some distance before glazing faces. Not sure the color tones work yet, but what does that mean, anyway?
This month, I began reading a book Mouse gave me by John Loori titled
The Zen of Creativity
. It describes the aesthetics of Zenga and Nanga, styles of zen painting which seem to be the ultimate goal of all artists since Jackson Pollock. The methods in my portraits, however, are obviously not in the Zenga style; but in many ways opposite, more like the methods of engineers and architects, which tend to destroy spontaneity. My methods plan ahead and plod along, not very zen-like at all.
Too much Saturn and not enough Moon...
Fri Jun 24th
Spread white titanium to print Jabberwock poem on back of portrait. Added more comments to
Looking Glass
webpage. Sent an email to 24 folks listing my
Looking Glass
webpage. Backed up Alicia's laptop on my 8GB thumb drive. Found 2 photos that revealed the background in the mirror of the portrait. What I saw as a table upside down was actually a doorway, and a picture frame was actually the ceiling, and a chair back was actually a picture frame. Appearances are deceiving in a mirror world.
Fri Jul 8th
Sprayed ants coming thru A/C. Printed Jabberwocky poem in Medusa font on white titanium. Sprayed it with fixative.
Sat Jul 9th
Peeled Jabberwocky poem from glass and applied it to canvas back of portrait. Signed back of portrait with a Sharpie.
39
Tues Nov 5th, 2013
In Photoshop, played with color in doorway of
Alicia Thru The Looking Glass
image.
Wed Nov 6th
Painted orange in doorway of
Looking Glass.
Thurs Nov 7th
Painted doorway more orange in
Looking Glass
portrait.
Fri Nov 8th
Painted orange doorway some more.
Sat Nov 9th
Painted alizirin checks in area of doorway on
Looking Glass
. Gave head a swoop of cobalt under the chin. Mouse said Alicia looked too fat. Perhaps the cobalt will push back the fat?
Sun Nov 10th
Added more colbalt under Alicia's chin in portrait. Obsessively, repainted squares in doorway.
Wed Nov 13th
Painted more pink under portrait chin. Does not seem to have made much difference.
Sat Nov 16th
Painted a smidge of red on a square in doorway of portrait. Time to stop...


JABBERWOCKY
by Lewis Carroll
from Through the Looking-Glass 
and What Alice Found There, 1872

'Twas brillig, and the slithy toves
  Did gyre and gimble in the wabe:
All mimsy were the borogoves,
  And the mome raths outgrabe.

"Beware the Jabberwock, my son!
  The jaws that bite, the claws that catch!
Beware the Jubjub bird, and shun
  The frumious Bandersnatch!"

He took his vorpal sword in hand:
  Long time the manxome foe he sought —
So rested he by the Tumtum tree,
  And stood awhile in thought.

And, as in uffish thought he stood,
  The Jabberwock, with eyes of flame,
Came whiffling through the tulgey wood,
  And burbled as it came!

One, two! One, two! And through and through
  The vorpal blade went snicker-snack!
He left it dead, and with its head
  He went galumphing back.

"And, has thou slain the Jabberwock?
  Come to my arms, my beamish boy!
O frabjous day! Callooh! Callay!"
  He chortled in his joy.

'Twas brillig, and the slithy toves
  Did gyre and gimble in the wabe;
All mimsy were the borogoves,
  And the mome raths outgrabe.