Mona Hulie
Acrylic on Canvas
24" x 36"

December 2013
—
February 2014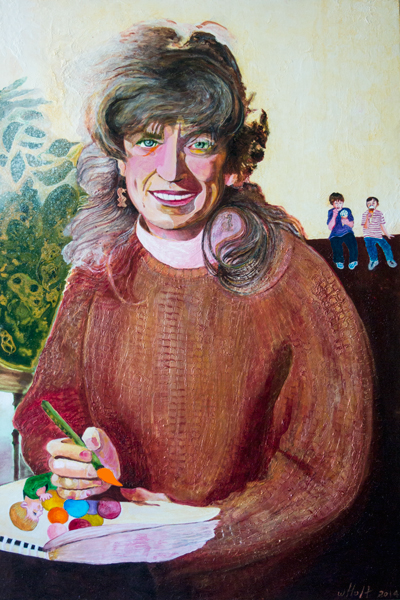 Notes on Painting
Mona Hulie
01
Tues Dec 17th 2013
Traced Hulie's portrait from slide projector onto canvas with pencil.
02
Wed Dec 18th
Hilighted face in Hulie tracing from yesterday.
03
Sat Dec 21st
Laid in facial lines with ochre.
Looks like the ghost of Barbara Bullock.
04
Sun Dec 22nd
Painted eyes and mouth. Teeth look like a horse.
05
Mon Dec 23rd
Added more dabs.
06
Tues Dec 24th
Started shooting daily photos with Olympus camera.
Added hand and thumb.
Wed Dec 25th
No painting today.
07
Thurs Dec 26th
Worked around Hulie's eyes.
Fri Dec 27th
Painted more on Hulie's eyes.
08
Sat Dec 28th
Marbleized Hulie's hair.
09
Sun Dec 29th
Painted more hair on Hulie.
Mon Dec 30th
Scanned drawings of chess knights.
Painted hair over eyes.
10
Tues Dec 31st
Painted more on Hulie's face.
11
Wed Jan 1st 2014
Hulie portrait looking better with more glazes.
Scumbled some orange on turtleneck.
12
Thurs Jan 2nd
More black glaze around eyes.
Poured heavy coat of pink on turtleneck area.
Started chess knight earring.
Max came by, but he could not recognize Hulie in portrait. Prosopagnosia?
13
Fri Jan 3rd
Noticed one eye bigger than other.
Started pouring burnt sienna transparent layer for sweater.
14
Sat Jan 4th
Made eyeball a bit smaller. Messed around with hair. Detailed lips.
15
Sun Jan 5th
Painted more on Hulie's sweater. Painted the green plant a light wash.
16
Mon Jan 6th
Painted left and right sleeves of sweater.
17
Tues Jan 7th
Painted squares on sweater.
Wed Jan 8th
Scumbled on portrait hair.
Detailed hands and nose.
18
Thurs Jan 9th
Applied two coats of renaissance red on portrait sweater.
Applied some green around left eye.
19
Fri Jan 10th
Painted over sweater with ochre and white. Made a tool out of aluminum meal tray for imprinting rectangles on portrait canvas.
20
Sat Jan 11th
Tried out tool using Golden gel. Works! Cut out another rectangle tool from meal tray. Spread Golden gel on portrait sweater. Used metal tool to impress squares. But gel dried with white tint.
21
Sun Jan 12th
Glazed white tinted sweater with ochre. Then with renaissance red. Poured white for back wall. Poured black and crimson mix for bottom section.
Mon Jan 13th
Glazed portrait's left sleeve with ochre and then renaissance red. Poured more white on portrait wall.
22
Tues Jan 14th
Dabbled ochre tint on white wall. Poured ochre over plant area. Splotched liquid sap green into ochre and let it spread organically. Added more hair to right side of portrait.
Found an Andrew photo with balloons for sketch book area. Traced it off the monitor on an acetate sheet at the size of portrait sketchbook page. Traced the acetate outline onto a sheet of paper. Chalked the back of the sheet with 2B thick lead. Traced the pencil chalking onto the canvas.
23
Wed Jan 15th
Painted hair on left side by pouring clear first and marbleing white into it. Painted boy and balloons. Called Rick to pick up atomizers tomorrow in Hickory Hollow at Jerry's Artarama. Painted more boy and balloons.
24
Thurs Jan 16th
Painted white hair on left side by pouring clear first and marbleing white into it. Painted more boy and balloons. Poured clear to paint hair on right side of portrait.
25
Fri Jan 17th
More hilites on portrait hair. Glazed red gold on sweater. Rick brought me two atomizers from Artarama.
26
Sat Jan 18th
Painted more on Hulie's hair. Right side still does not look good.
27
Sun Jan 19th
Worked on hair on right side of portrait. Looks better with build up of thin strokes.
Mon Jan 20th
Dabbled red and black in hair area.
Tues Jan 21st
Made another white knight earring.
Wed Jan 22nd
Whited arm and collar areas to be enlarged. Painted red sienna over white areas.
28
Thur Jan 23rd
Painted sweater a glaze of red-gold. Stamped pattern with gel into sleeve area with aluminum stamp. Painted sweater a glaze of gold.
29
Fri Jan 24th
Glazed portrait sleeve a little darker.
Sat Jan 25th
Moved right eye over to the left and down. Added some leaves to plant. Toned down shadows on right.
30
Sun Jan 26th
More hair making a yin-yang pattern on portrait. Messed around with eye some more.
Mon Jan 27th
Messed more with portrait eye. Made corrections to portrait in photoshop.
31
Tues Jan 28th
Made small changes. Probably moved right eye back to where it was, but the dip in the eyelid definitely softened the expression.
Wed Jan 29th
Continued playing with details.
Printed photoshop of Matthew and Vincent to insert.
32
Fri Jan 31st
Transferred Matthew and Vincent images to canvas.
33
Sat Feb 1st 2014
Filled in Matthew and Vincent cartoon on portrait.
Made slight eye changes.
34
Sun Feb 2nd
More touches on Matthew and Vincent cartoons.
Lightened the eyes.
35
Tues Feb 4th
Photoshopped around portrait eyes. Painted some details.
36
Wed Feb 5th
More details. Added chess knight earring on right side.
37
Thurs Feb 6th
Placed other chess knight earring. Colored both a red-brown. Painted more in plant area.
Fri Feb 7th
Painted more details.
38
Sat Feb 8th
More details in left eye and plants. Added orange and yellow around eyes.
39
Sun Feb 9th
More details. Put a crimson paisley under left eye.
Mon Feb 10th
Glazed crimson paisley with yellow. Overpainted yellow with crimson again. Atomized upper left with a white spray. After it dried, did it again.
40
Tues Feb 11th
Glazed more pink over paisley under left eye. Signed my name and year. Not much more I know to do with portrait. Paisley under eye still too crimson. Overpainted with pink again.
Wed Feb 12th
Repainted orange strip under eye. Attempted to make portrait nose thinner and right sleeve wider.
Thurs Feb 13th
More touchups. Painted brush tip with quin red. Pam critiqued the Hulie portrait. Mostly the left eye still is not right. Painted down the thumb to make it recede. Painted crimson over brush tip's upper half.
Thurs Feb 14th
Darkened around left eye.
Hulie showed me the valentine cards that she and Andrew printed.
I showed her the portrait. She had a good laugh.
Thurs Feb 15th
Painted over the shiny gold hilites with red and ochre.
Thurs Feb 16th
Repainted brush tip with magenta gradient into orange, but did not work.