Packed up my gear and said many thanks to Daphne. My stay under her printing press had been the high of my summer sojourn. While writing about my time with Daphne, I discovered a brief text online titled A Short History Of Carrefour Press And Archives published in 1994 by Alyscamps Press and edited by Karl Orend and Constance Morrill. I ordered it from a bookstore somewhere in Berlin, and it arrived two months later. On the cover jacket was a portrait of Daphne, artist unknown, wearing attire that could have been Greek, Mexican, or Gypsy. Inside, I found a photo of Daphne when she was younger living in Mexico, Paris, or Indiana. She had a dog. On the back is the motif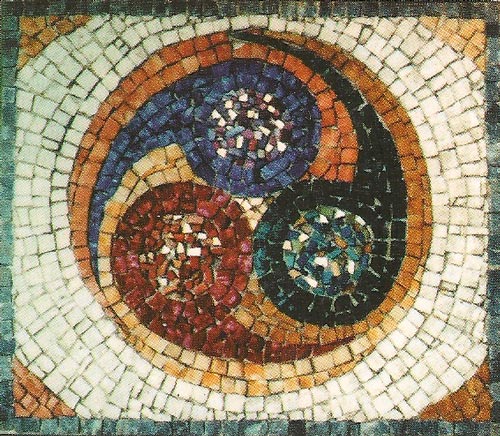 she made for Carrefour Press. According to the text, Daphne died in 1991 leaving Carrefour Press to Michael Harris, a young admirer. Carry on, Michael. Ciao!
Some years after my return, I found a note in a box listing recipients of a poster I silk screened back in the 60's during my psychedelic period. This list included Daphne and indicated that I sent her, appropriately, a purple version. I hope she received it and found it fun. She was a most gracious hostess.
From Victoria Station, or Charring Cross, or maybe St. Pancras, I took a train south 76 miles to Dover. I was not going to risk another hitching fiasco where I would get stuck two days waiting for a friendly driver. I had three days to make the plane in Luxembourg and cheapness was no longer an issue. Just get me to the plane on time. Finally, I was going home. I could at last relax. So how best to waste two days?
From Dover, I found a ferry to Oostende in Belgium.
The ferry was most likely the Prinses Maria Esmeralda; built in Hoboken in 1975, she went through five name changes before being scrapped in 2007. From Oostende, rode train to Bruges, or Brugge as the Dutch know it. Here I spent the night. I assume I splurged on a bed in a hostel.
Bruges is a town where time stopped. Its architecture got stuck in the 16th century when its canal to the sea started filling up with silt preventing large sailing vessels from navigating into its harbor. So it died, preserved neatly like a mummy encased in its jewelry, never to know the industrial revolution with its smokestacks, factories, and pollution. Consequently, it became a tourist resort in the 19th century for those seeking to escape from the commercial stress of modern urbanity, which rhymes with insanity.
It is difficult to take a bad photo in Bruges. It is all so quaint. The lighting contrasts within narrow passageways create wonderfully lovely compositions for all to admire. There must be a billion photos taken from the same spot where the river canal flows under the bridge past the antique dwellings with the bell tower in the background overlooking from above. It's everyone's idea of a perfect picture. Christmas time all the time. Such are the delights of nostalgia. As I fall asleep, I am already missing Daphne and dirty old London where you can always find a friend to take a bath with.