Entered Spain at Portbou.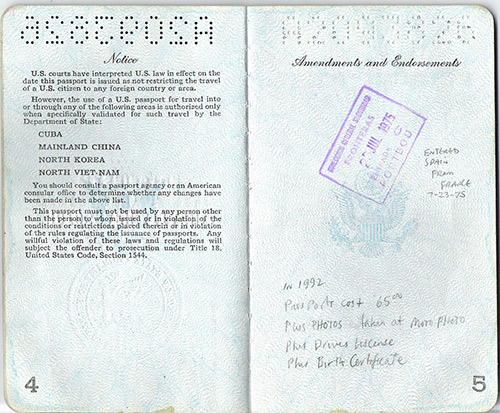 No one from France has been allowed into Spain without a visa since Napoleon in 1814. And so onto Barcelona. A woman on the Metro subway gave me that haughty Castilian gaze.
I was back — as promised on June 8th — for another look at Gaudí's music frozen in time — this is Johann Wolfgang von Goethe's metaphor for architecture. Would Goethe have had the same idea if he had seen Gaudí's melting ice cream houses? There were a few masterpieces I had neglected my first time through. Early in the morning, I knocked on the front door of Casa Batlló;
known in the neighborhood as Casa dels Ossos, or House of Bones.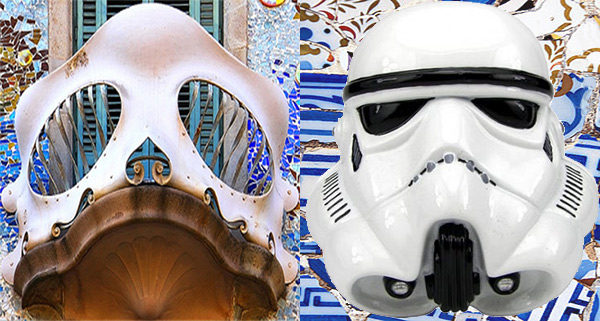 On June 8th, I had only walked by Casa Batlló observing the curves on the outside. This visit, I wanted to see the insides. Casa Batlló had been an insurance company since 1954 when the Batlló children sold it. Would the owners let me in?
1877— Lluís Sala Sánchez hires Emili Sala Cortés, one of Gaudí's teachers, to build a house on Passeig de Gracia.
1900— Josep Batlló buys this house.
1904— Batlló hires Gaudí to redesign his house.
1906— Gaudí completes refurbishing
1926— Gaudí dies.
1934— Batlló dies.
1940— Mrs. Batlló dies.
1954— Batlló children sell house to Seguros Iberia, an insurance company.
1970— The insurance company starts refurbishing the house. That's when I arrived.
1983— Exterior is refurbished.
1993— Insurance Company sells house. New owners refurbish some more.
1995— New owners rent rooms for various functions.
2002— Main floor of house opens to public.
2004— After 100 years, the house becomes a museum open to the public on all floors.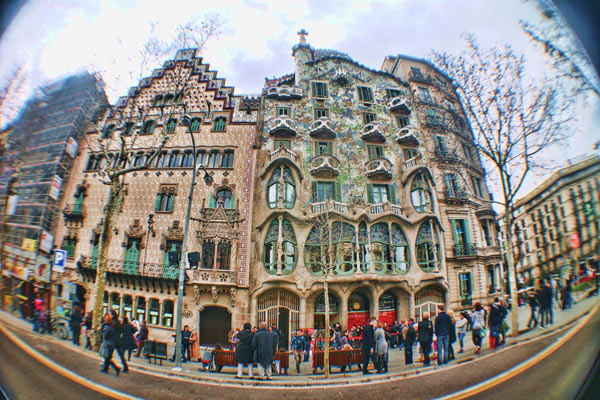 I had seen a
door
of the Batlló house in a small book I owned about Gaudí, and I wanted to experience what was on the other side. I asked the señorita who opened the door if I could take a look at it from the inside — a door that would have loved opening into any Hobbit house, but this house was much bigger than any Hobbit would ever need.
Por supuesto. Ven a la derecha adentro.
She graciously showed me around the interior. It contained no straight lines, but many curves like that spinal staircase to some mystery above. Thirty years later, I could have viewed the upstairs, but today it was closed to the public. I was lucky to have seen part of the main floor. What if some old ogre had answered the door? After a few brief moments, I thanked her and continued my search for other Gaudí delights.
Güell Pavilions 1884-87
Palau Güell 1886-88
Colegio de las Teresianas 1888-89
Bodegas Celler Güell 1882-97
Bellesguard Casa Figueras 1900-09
Colònia Güell 1908-18
It's great to have a
patron. I have had two patrons: Ms. E and Mr. Max. Each was born under the sign of Pisces when the moon entered Sagittarius — a good combination for magnanimity and empathy. However, if you acquire a patron, make sure he or she is a rich one. Jesus was most likely born under the same combo. Xmas, you should know, was invented by us pagans.
Da Vinci had Lorenzo de'Medici; Gaudí, Eusebi Güell. Señior Güell commissioned Gaudí's Bodegas Güell, Güell Pavilions, Palau Güell, Colònia Güell, and Parc Güell. Gaudí teaches us that you do not need to do anything to complete any project; you must only be likable enough that others will do the work for you. Obviously, Barcelona liked and still likes Gaudí enough to continue building his cathedral. After saying goodbye to the
salamander
at Parc Güell and paying respects to Gaudí at his
cathedral,
I hopped a train to Villanueva y Geltrú, 30 miles southwest of Barcelona. There I searched for my travel guru, the fellow I wrote about on the May 26 page,
Carson Beal.
Carson had sent me a letter saying to meet up with him if ever I made it to Spain, but soon he would be off to explore Africa. I wrote him the postcard below before I left Nashville.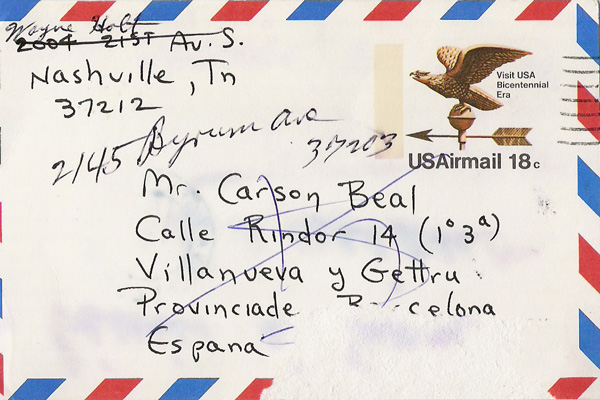 Villanueva y Geltrú is a small Catalan burb on the beach. I found the address on the envelop of Carson's last letter to me, searched out Calle Rindor 14 — I remember a white flat motel built on the beach — but Carson had long departed for Africa and the adventures therein. Gaudí had vanished from my time; and Carson from my world. Gurus are like that:
Here Today — Guatemala
. It was growing dark now. I spread my poncho on the white sands of the beach and let the sea waves drone me to
sleep. On the beach of Ribes Roges, in Vilanova i the Geltrú, is a sculpture called Pasifae by the sculptor Oscar Estruga. But, who was Pasifae? Poseidón, God of the sea, sent a white bull to King Minos of Crete to be sacrificed in Poseidón's honor. King Minos did not do it, bringing about the wrath of Poseidón. The God took revenge by causing the king's wife, Pasifae, to fall madly in love with the white bull. Under orders of Queen Pasifae, the engineer Daedalus constructed a wooden cow, where Pasifae hid. In this way, Pasifae could complete her love with the white bull. From this union the monstrous Minotaur was born. The structure required three tons of copper. That's a lot of bull.