There now is your insular city of the Manhattoes, belted round by wharves as Indian isles by coral reefs—commerce surrounds it with her surf. Right and left, the streets take you waterward. Its extreme down-town is the battery, where that noble mole is washed by waves, and cooled by breezes, which a few hours previous were out of sight of land. Look at the crowds of water-gazers there.


—Herman Melville
I arrived the next day at one of the New York Port Authority Bus Terminals. Since I was a child in White Plains, the city's skyline across the river has always been dramatic; it meant I was coming home protected by the immense power of cumulative knowledge as exemplified by its execution in concrete. Such a site is a temple of idolatry to a pious soul. You may as well wave a red flag in front of a bull and expect it to lie down peacefully.
Took a subway to Jack Eric Williams dark basement apartment in the lower east side. Jack had recently moved from Nashville to New York to begin his Broadway career. I first met him at Carl Crowley's house during a small jam session with Dick Cotton on guitar, Carl on drums, Woody from Riders in the Sky on fiddle, Jack on keyboard, and me on sax. It quickly became apparent that I was the brown shoes at a tux & tie party. Nevertheless, Jack invited me to visit him if ever in New York. And I did. A Santa Claus, a Jupiterian, a Falstaff, Jack radiated talent. (Ironically, he is best remembered for playing a villain.) Unfortunately, such personalities are often burdened by extra weight, depression, and diabetes leading to an early demise. I had rather be Cassius with a lean and hungry look.
There is a Wikipedia entry on Jack. Part of it goes like this:
Jack Eric Williams (March 28, 1944—January 28, 1994) was an American actor, composer and lyricist for stage and film. He is most remembered for originating the role of Beadle Bamford in Stephen Sondheim's Sweeney Todd. In 2003 his life and death were the subject of one of William Finn's Elegies: A Song Cycle, The Ballad of Jack Eric Williams (and other 3-named composers). Williams died in New York City on January 28, 1994 from cardiac arrest due to complications of diabetes.

Jack Eric Williams appeared off-Broadway as Max in a 1975 production of Harold Pinter's The Homecoming at the Wonderhorse Theater. He made his Broadway debut in 1976 in the Lincoln Center revival of Kurt Weill's Threepenny Opera, singing in the ensemble and understudying the role of the Ballad Singer. He next appeared in Stephen Sondheim's 1979 masterpiece Sweeney Todd, originating the role of the villainous Beadle Bamford. Sondheim wrote the exceptionally difficult vocal lines with Williams' voice in mind. His performances in both shows are preserved on their original cast albums. In 1981 he appeared in the controversial film Strong Medicine. A noted tenor, he once gave a command performance for the King and Queen of Sweden. Williams regularly performed his work in cabaret venues around New York. His one-man show, Songs and Other Devices: A Cabaret Recital (volumes 1-4) was performed at The Ballroom, Lone Star Cafe, Reno Sweeney, S.N.A.F.U., The Other End, and The Westbank Cafe.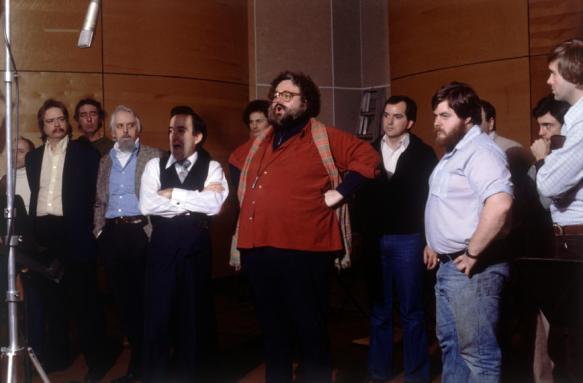 Jack Singing with Original Cast of Sweeney Todd