How did those children come there? Perhaps they had escaped from some guardhouse which stood ajar; perhaps in the vicinity, at the Barrière d'Enfer, or on the Esplanade de l'Observatoire, or in the neighboring carrefour, dominated by the pediment on which could be read:

invenerunt parvulum pannis involutum

(they discovered the infant wrapped in swaddling clothes) . . .
— Victor Hugo
Les Misérables
Before leaving Paris, I would like to take one last look around the historical neighborhood of
Place Denfert-Rochereau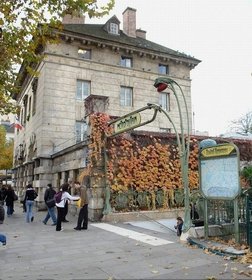 where miserable waifs gathered for the
barricaded insurrections of 1830, 1832, 1848, 1870, and 1944
, and the importance of which I was totally ignorant during my stay there. Originally, before the French Revolution, Denfert-Rochereau was a passage through the ancient city wall where
farmers paid taxes
to bring their produce to the Paris market. Thus, the name known by farmers:
Place d'Enfer—the Gates of Hell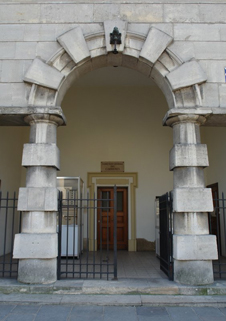 . Two toll houses were erected in 1789, designed by
Claude Nicolas Ledoux
, an architect both classical and futuristic, at what is now the intersection of Place Denfert-Rochereau and Avenue du Colonel-Henri-Rol-Tanguy, which is only one block long, a section of the longer Avenue du Général Leclerc.
Colonel Tanguy
and
General Leclerc
were leaders in the French Resistance in WWII. Warriors require monuments, parks, and avenues, and come in all shapes and sizes —
architects, scientists
,
theologians, artists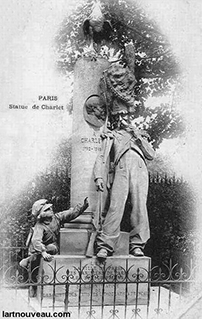 , and even
lawyers
.

This one block contains an entrance to the
Metropolitain Underground
next to the west pavilion and an entrance to the
Paris Catacombs
next to the east pavilion. One side entombs multitudes departed; the other entombs multitudes departing.
Immediately north beyond Les Catacombes at the start of Rue Froidevaux, is the Lion of Belfort guarding the city gates. This bronze version is one third the size of the one near the German border in
Belfort, France.
It was designed by
Frederic Bartholdi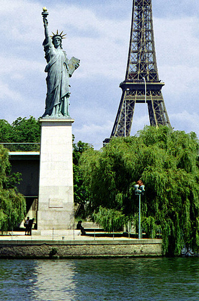 , sculptor of the Statue of Liberty in New York. The lion commemorates
Colonel Pierre Philippe Denfert-Rochereau,
commander of French forces during the Seige of Belfort in 1870 where he held off 40,000 Prussian soldiers for 103 days with 15,000 men, of which only 3500 were actual soldiers. Stats! The names
d'Enfer
and
Denfert
both sound alike in French, so it was perfectly logical to place the lion here to protect future Parisians against subsequent invading huns and hippies from hell. There is also a version of the
Lion in Montreal
, presumably to protect Canadians from invading Americans. Hell can be anywhere, but history is everywhere.