Woke up in the train station where
Einstein
once arrived from Munich to take a position as a patent clerk while writing his theory of relativity, where
Paul Klee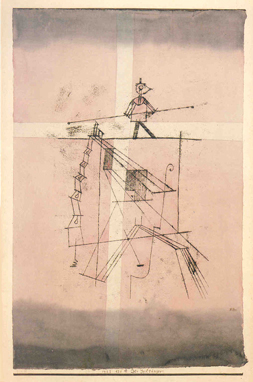 was born and whose style I imitated rather badly in my
earliest paintings.
There is no better place to think and muse than Switzerland, and Bern is its capital.
Catching the first train southward, I continued my tour of Switzerland — Bern ⇒ Lausanne ⇒ Geneva ⇒ Montreux ⇒ Martigny ⇒ Sion ⇒ Brig ⇒ Spiez ⇒ Zweisimmen ⇒ Lenk... About 250 miles of track lie between Lindau, Germany on the Swiss border and Geneva on the French border. Switzerland is smaller in size than New Hampshire and Vermont combined, and closer to Massachusetts plus Connecticut. This means it is possible to ride every alpine Swiss rail line in 3 days, and so I did, stopping off anywhere I liked along the way to smell the air, feel the grass growing, and view mountains like none Bob Ross could ever imitate.
In Zweisimmen, I ended the day with a bus ride to Lenk, a ski resort in Simmental Valley. But I did not know it was a ski resort. It was summer after all. No skiers in sight. On the map, it simply looked like the most remote location that a Eurail pass could take me. The bus driver asked me where I wanted to go, and I replied Take me to the end of the line, and he did, through a green valley to a pasture of grass like no other I had ever seen, bug free, with mountains above.
Ah, heaven...What can be said of heaven?
Whereof one cannot speak, thereof one must be silent.
Dante's Inferno, interesting. Dante's Paradiso, boring...
Good night, best night.
---
Quiet nights of quiet stars quiet chords from my guitar
Floating on the silence that surrounds us

Quiet thoughts and quiet dreams quiet walks by quiet streams
And a window looking on the mountains and the sea, how lovely

This is where I want to be here with you so close to me
Until the final flicker of life's ember

I who was lost and lonely believing love was only
A bitter tragic joke, have found with you,
The meaning of existence, oh my love

—Antonio Carlos Jobim & Gene Lees (1960)