Clervaux ⇒ Vianden ⇒ Luxembourg ⇒ Trier ⇒ Cochem ⇒ Eltz ⇒ Koblenz ⇒ Frankfurt ⇒ Giessen ⇒ Marburg
From Clervaux, made my way back scenically to Frankfurt and then north to Marburg where I had an invitation to stay with Tom Fox's girl friend Steffi Newell at Kleine Ortenberggasse 3. Perhaps a couple of days rest in a small college town would be relaxing. On the way, I thought of the connections that had carried me this far...
...Tom Fox was best friends with Tony Edmonds, son of Ms. E whose attic I lived in happily off and on for 7 years from 1971 to 1977 at $15 per month. I finally raised my rent to $25 per month. Generous of me, eh? Ms. E's house still stands even after being condemned by city inspectors back in '77. It is now an environmental engineering company hiding like a dead tooth between two dental offices. The one on the left replaced a house on the corner of Portland Avenue where Steve the songwriter lived before he found Jesus in his purple Cadillac named Moby. The one on the right replaced a small white wood cottage where I lived a year on and off with three musical ladies —
Beverly, Beverly was the shy daughter of a child actress whom Boobette and I nicknamed child star. That made Beverly child star's child. So who was Boobette?
Ruth, Where are you Ruth? I hope life treated you better than I did.
and
Linda Linda was the lady who decided my entry into the Nashville Symphony's t-shirt design contest was the preferred one. I rather liked the Beethoven in a cowboy hat better.
— a pianist and two violists. Beverly was continuously practicing for her big recital while being re-energized by Billy the Biker. The girls adored him, and he was in harem heaven on a Harley. After Carson Beal visited in '71 on his way to Africa via Spain, Beverly threw me out. That's when I climbed into Ms. E's window next door to explore the furnishings. The upstairs had its own bathroom; that was good enough for me. So I walked down to the village bookstore where Ms. E sold books. I told her I would like to move in. She said anyone who would want to move in to my flop house sight unseen is OK with me.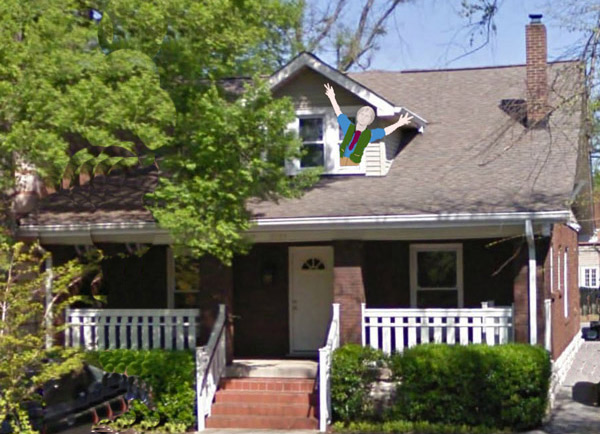 Of course, there was that part of a year I took off in '72 to play house with Abbey at the now defunct Parkview Apartments — torn down and replaced within a year of our moving in by a Japanese steak house.
I am sorry to say this relation did not end very well for either the apartment house or Abbey and me. Four years later, I did a stint as a nanny in Atlanta for a few months with June, Bryan, and Kenny in an old Victorian home on Elizabeth Street.
Katie, the same Katie who set me up with her BFF Kate T. in Paris, had recently stolen the artist's heart of June's husband Ken, and June needed some help with her 6 and 10 year olds. I endured from August to November of '76, while voting in my first presidential election at the neighborhood library in the Little Five Points district of Atlanta.
Voting for Jimmy Carter in Atlanta was a gross redundancy, but he was the first president I was clear that I wanted as president, although he proved to be a much better ex-president, more so than any other ex-president. Before Carter, I actually was not clear about who would be a better president — Kennedy or Nixon. History decided for me... Aye, so many randomly rambling connections. Where should I stop? During one's lifetime, we will make myriads of connections that lead to even more connections. If we are cordial to most, our karma rewards us with a surplus of good connections. Otherwise, life is hell. Keep smiling.